introducing st. anger's art to touch the heart…
Diversity Designs are for everyone… Diversity designs are for you and for me!
Elana Felice Stanger's unique Art to Touch the Heart makes every T-Shirt, greeting card and poster into a special celebration of diversity and unity. We are all special and unique and we all deserve to be celebrated. Celebrate your own uniqueness with love from us, painted into each design.
we make colorful, whimsical., magical artwork about diversity and unity to heal social oppression and realize social justice!
Elana Felice Stanger, a.k.a. St. Angel, a.k.a. St. Anger became a Diversity Artist, a term she coined to describe herself, when she followed her heart to New Orleans and opened an art gallery at the youthful age of 25 named DiverCity InterCultural Art Gallery. There, she created a body of artwork to speak empathically to all people regarding social oppression and social justice. She began to place her divinely-channeled artwork on posters, greeting cards, mugs and other products to spread the message of peace, love, justice and unity.
About Elana Stanger's Artwork
Elana Stanger gives to us delightful Art to Touch the Heart™ which brings us all lovingly onto the path of healing racism and uniting all people. Stemming from divine inspiration, her art effortlessly appeals to our better nature. Through whimsy as well as frankness, this divinely-channeled artwork conveys a sense of equality and social justice.
An innovative healer of racism for more than 30 years, Elana created her own diversity art gallery in New Orleans, facilitated interracial dialogues in multiple settings, worked as a diversity consultant in the corporate environment and earned two masters degrees, one in conflict resolution and another in clinical social work. Her commitment to this work is from her heart and is uniquely wonderful.
inspirational diversity arts products
We are happy to be able to serve humanity by creating art to stimulate constructive conversations focused on salient diversity issues. Whether you want to license, buy or commission original diversity artwork or printed shirts, posters, stickers, journals, or anything else, please talk to us and tell us what your needs are.
Browse through our SHOP.
books, workbooks & journals
We create whimsical books and practical workbooks as well as manuals for facilitators of our healing work. Incorporating our unique brand of artwork, in addition to our creative style and a loving approach to organizational development, Diversity Designs books bring out the best in you and those around you. Our books and all of our offerings will help you create a diverse, safe and inclusive environment to bring out everyone's best.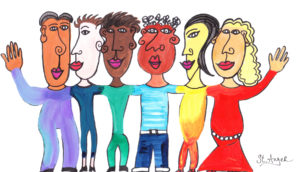 Fun, meaningful seminars & creative performances
Improvisational, dramatic, expressive, participatory, arts-based, evidence-based experiences can be facilitated for your group, organization, conference and retreat. We design effective workshops, seminars and performances that encourage, uplift and inspire. Diversity Designs will develop a tailor-made program for your group, organization, conference and retreat to motivate everyone's passion, creativity and best thinking. Please let us know the type of workshop in which you are interested and we will design a memorable social attunement experience you will continue to appreciate for years to come.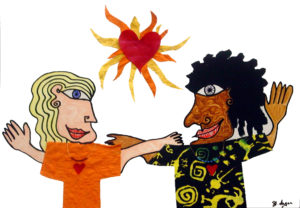 STEVE FISHER
DIRECTOR,
INTERNAL COMMUNICATIONS, HILTON HOTELS CORPORATION, BEVERLY HILLS, CA
"Elana Stanger's talent allows us to communicate Hilton's support of diversity initiatives through her fun, effortlessly hip artwork. I would not involve myself in any diversity-related activity without her input."
JOHN SEVCIK
ARTIST,
PHILADELPHIA, PA
"You just might sweep the world into a new myth of being. The images you made are iconic, in a language we understand. They are also universal. You have uttered a profound list of symbols, which are perhaps able to help in ways we cannot imagine."
CONFERENCE PARTICIPANT
NATIONAL MULTICULTURAL INSTITUTE,
WASHINGTON, D.C.
"I never knew art could be so powerful."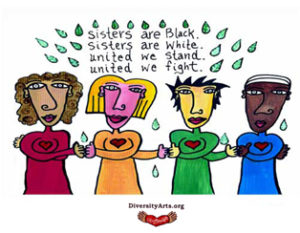 ANNABEL LEE GROTE
UPPER MORELAND HIGH SCHOOL
GLENSIDE, PA
"Your presentation really grabbed our students – you got them talking about very important personal issues very quickly and established a great sense of trust…your artwork is very effective in bringing forth the issues."